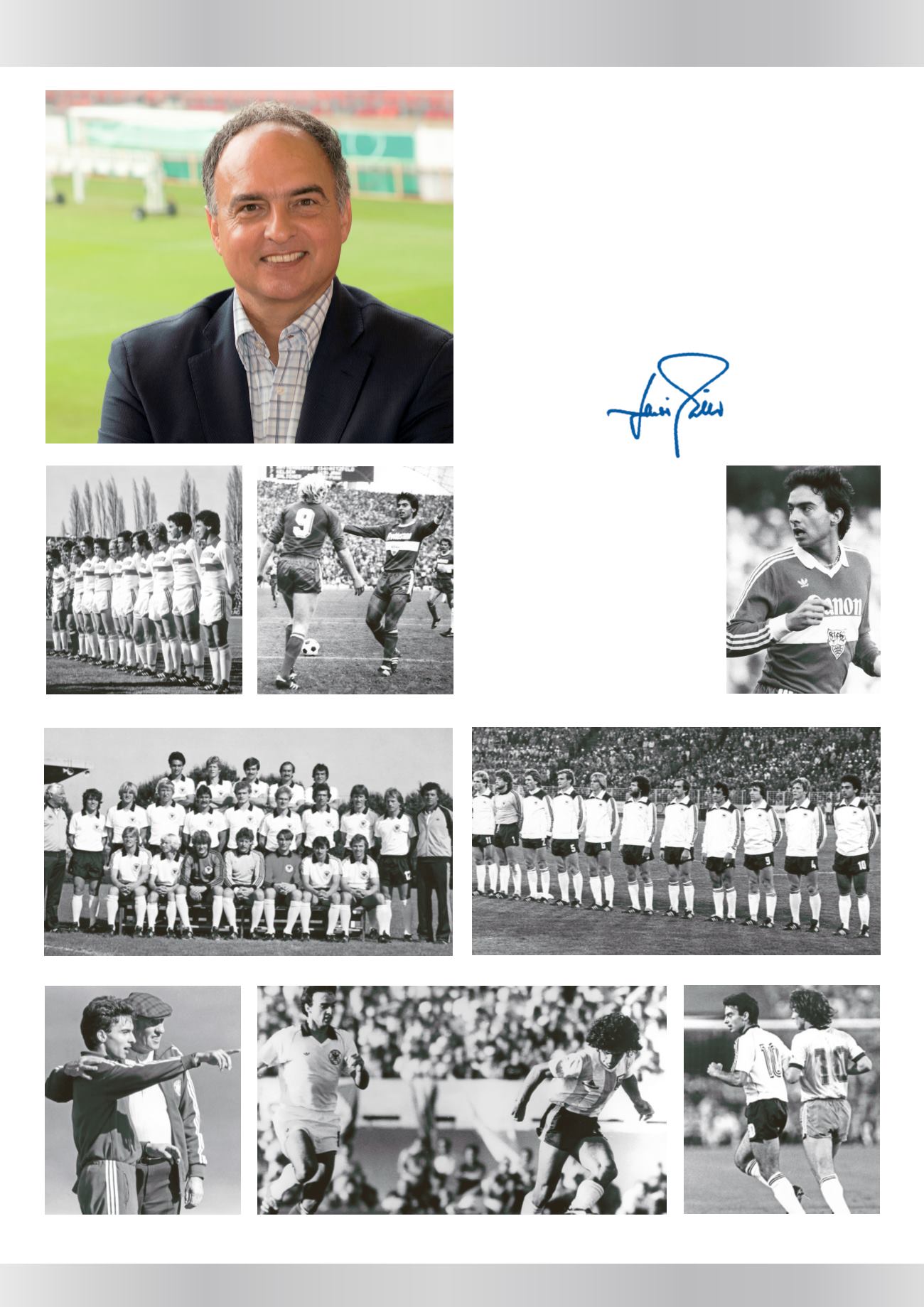 6
Hansi Müller
Dear soccer fans,
my life is still all about soccer. That is why I am very pleased that Tomy Dill's and my
paths have crossed again and again. Since my time as a professional soccer player
fort he VfB Stuttgart we both have shared a deep friendship. My motivation is to
offer an innovative and effective product range related to soccer.
At this learning, improving, developing and above all fun is of high importance.
Thereby our customers can profit from the extensive commercial experience of
Universal Sport and my own know-how in soccer.
We now wish you great pleasure in reading the catalogue and we hope our pro-
ducts meet your interests.
With sportive regards
Yours Hansi Müller
Sportive stations
Games Goals
1963 - 1969 SV Stuttgart Rot
1969 - 1982 VfB Stuttgart 186 65
1982 - 1984 Inter Mailand 48 9
1984 - 1985 AC Como Calcio 17 1
1985 - 1990 FC Swarovski Tirol 123 35
1978 - 1983 German National Team 42 5
The biggest sportive successes
1978 World Championship participation
1980 European Champinship
1982 Vice World Champion
German Champion in the second federal soccer league
and ascent to the first federal soccer league in 1977
Dieter Hoeneß, goal scorer against the great FC Bayern
in the Olympic Stadium in Munich in 1978
German Vice Champion 1979
with VfB Stuttgart
European Champion 1980
On the way to Vice World Championship 1982 in Spain
World Championship in Argentina with
national coach Helmut Schön
Mini World Championship in Uruguay 1981 Argentina vs Germany with Maradona
Brazil vs Germany, March 1982 in Belo Horizonte,
170.000 spectators